The County of Kilkenny consumed 2,032 GWh of primary energy in 2006, Oil was the largest energy fuel type consumed, at 64.41% of fuel total, followed by Electricity at 17.09%, Natural Gas at 9.99% and Coal and Peat at 7.02%. The County emitted 1,442 ktonnes of Carbon Dioxide (CO2) in 2006.
Kilkenny CO2 Emissions 2006:
Total Emissions: 1,442 ktonnes.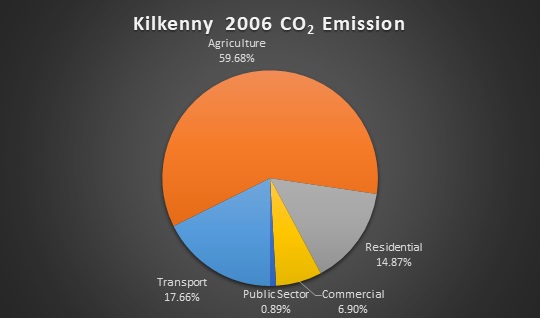 CO2 by Sector
Agriculture: 861 ktonnes
Transport: 255 ktonnes
Residential: 214 ktonnes
Commercial: 100 ktonnes
Public Sector: 13 ktonnes
Kilkenny Primary Energy Consumption 2006:
Total Consumption: 2,032 GWh
Primary Energy by Sector
Transport: 986 GWh
Residential: 629 GWh
Commercial: 232 GWh
Agriculture: 135 GWh
Public Sector: 49 GWh
Kilkenny CO2 Emissions by Fuel Type 2006
Energy-Related Emissions Only
CO2 by Fuel Type
Oil: 367 ktonnes
Electricity: 197 ktonnes
Coal & Peat: 40 ktonnes
Natural Gas: 34 ktonnes
Geothermal, Liquid Biofuel, Biomass, Solar: 0 ktonnes
Kilkenny Primary Energy Consumption by Fuel Type 2006:
Primary Energy by Fuel Type
Oil: 1415 GWh
Electricity: 330 GWh
Coal & Peat: 113 GWh
Natural Gas: 168 GWh
Other (Geothermal, Liquid Biofuel, Biomass, Solar): 9 GWh